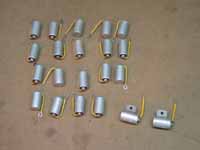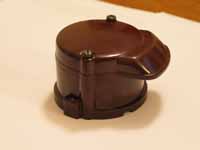 NOS Bosch German Dark Brown Caps
NOS Bosch Yellow Wire Condensers
NOS Bosch German Points
and NOS Bremi brown 25hp "Flat Top" caps.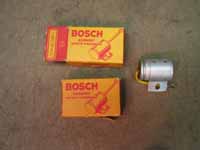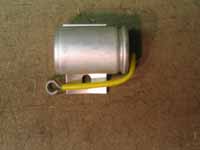 NOS Large Diameter 383 Condensers
NOS 383 rotors
NOS Bosch 36hp tune up parts.
NOS Bosch German "Dog Leg" Points for 36hp distributors.
NOS Bosch German "Big Cap" 40hp parts.
NOS Dowal ZV/JCU4R3 Distributor cap. This is a one year only cap
NOS Bosch German Condenser for Mercedes Distributor.
NOS Bosch German "Big Cap" Distributor Cap and NOS Atlas Condenser.
Pertronix does make a points replacement that fits.
Pertronix part #1844 for 12 volt and #1844N6 for 6 volt.
These NOS parts are extremely hard to find and stock varies, so please email me for current stock and prices.
---
All distributors are fully disassembled, cleaned and inspected. The bodies are then stripped and repainted. All broken, damaged or missing parts are replaced. They are reassembled using genuine Bosch shims, insulators, spacers and o-ring.

I do not replace or restore the badges.

These just need fresh tune-up parts and they're ready for another 40 years of service.
---
All prices do not include tune-up parts or shipping.
Any tuneup parts in the pictures are used and are not sent with the distributor.

I can install genuine Bosch tune-up parts so they're ready to use.
Contact me for details at glenn@glenn-ring.com.
---
If you already have a distributor, I can rebuild it for you.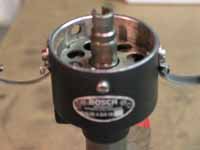 Believe it or not this is the same distributor.
---
Sun 620 Distributor Machine


circa 1958
---
Note -- Due to the increasing price for good rebuildable cores You will have to provide the core or I can help you find one.
---
Disclaimer: Names and/or images are trademarks and/or copyrights of their respective owners. This website is not affiliated with or sponsored by Robert Bosch GmbH (Germany), Robert Bosch Corp. (USA) or any of their authorized agents.
---

Last Changed 06/10/2021
Copyright © 1997-2021 by Glenn Ring
e-mail: glenn@glenn-ring.com